Avenged Sevenfold talks surprise album 'The Stage' with Jose Mangin
Avenged Sevenfold frontman M. Shadows gave Octane (Ch. 37) host Jose Mangin an exclusive interview about their surprise album, The Stage!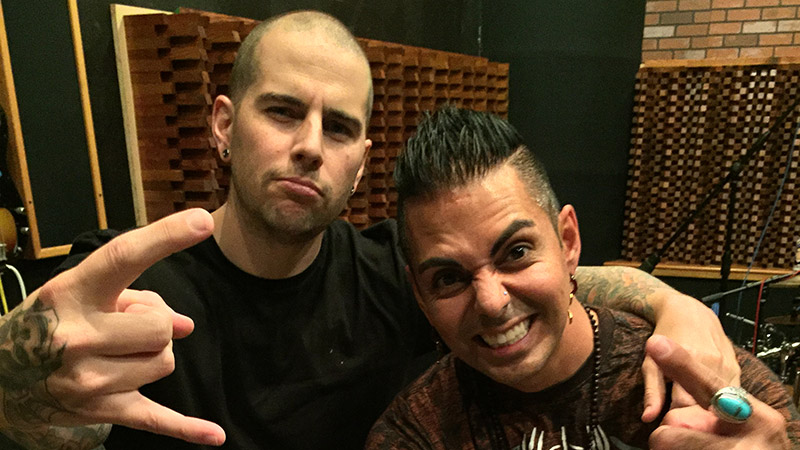 Avenged Sevenfold surprised the world today with the release of their seventh studio album, The Stage. Frontman M. Shadows sat down in Costa Mesa, California, with Octane (Ch. 37) host Jose Mangin to share details on the 11-track album in an exclusive interview.
Fresh off the band's 360-degree, virtual-reality performance on top of the Capitol Records building in Los Angeles, M. Shadows called the surprise release "a Beyonce move without the 84 million Instagram followers."
Mangin said he was excited by the band's creativity and asked what prompted this sort of release.
"I guess the most prominent reason would be just the lack of originality in the way people are releasing records these days," Shadows explained. "A lot of it has to do with our boredom of having to go through three to four singles before you get to the record release, and then three months later it's finally out, and all the excitement is gone. We just wanted to give the fans the cherry on top right off the bat and just say, 'Here it is. You thought that we were messing around for a year, but we've been working.'"
Mangin went on to ask if The Stage was a concept album or if there is a thread that tied the songs together.
"I wouldn't call it a concept album," Shadows replied. "But it's very conceptual, in terms of artificial intelligence, where we're going in the future, some of the big questions that are going to be answered very soon in the next 10 to 50 years with artificial intelligence. It also kind of goes into space exploration and how A.I. could help us with that, and also how A.I. could be detrimental to the human race. It explores all those things."
The interview wrapped up with the two talking about their plans to face each other in the video game Street Fighter, what it felt like to perform on top of The Capitol Records building and how Avenged Sevenfold kept the whole release a secret.
"We didn't really tell anyone except very close people in the inner circle because people just like to talk," Shadows said. "Even though they might not have bad intentions, you just don't want some person to accidentally tweet something or put an Instagram post up because that's all it takes, and then the whole surprise is ruined."
Octane will be playing every track from the new album all release week long with exclusive commentary and song intros from M. Shadows. Also during the special M. Shadows takes total control of the playlist and introduces some of his favorite hard rock and metal songs from bands like Ghost, Faith No More, Pantera, and more!  Hear hear the special on Friday 10/28 at 9 am 2 pm & 8 pm ET; Saturday 10/29 at 12 pm & 6 pm ET; Sunday 10/30 at 3 pm ET; and Tuesday 11/1 at 9 pm ET.
The Stage Tracklist
1. The Stage
2. Paradigm
3. Sunny Disposition
4. God Damn
5. Creating God
6. Angels
7. Simulation
8. Higher
9. Roman Sky
10. Fermi Paradox
11. Exist
You can pick up a copy for yourself now!
For a free 30-day trial, check out http://www.siriusxm.com/freetrial/blog
---
---
---