As David Ortiz faces life after baseball, Boston faces life after Ortiz
BOSTON – Icon. Legend. Hero. These are just a few of the words used to describe flesh-and-blood baseball player David Ortiz. "Big Papi" is about as synonymous with Red Sox baseball as Ted Williams or Carl Yastrzemski. He stands shoulder-to-shoulder with … Continued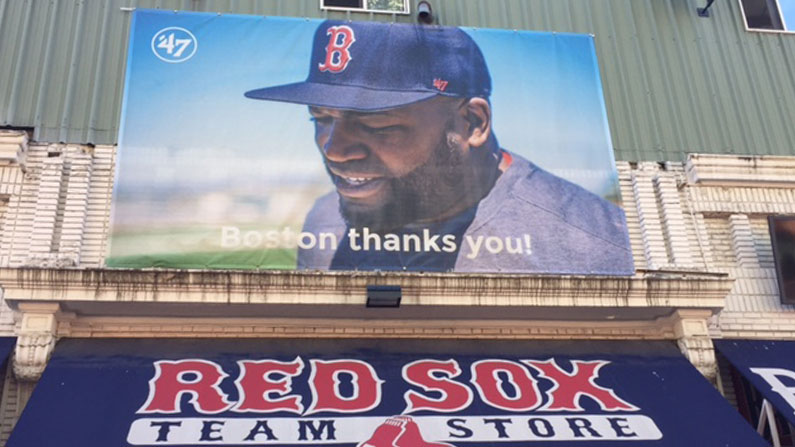 BOSTON – Icon. Legend. Hero. These are just a few of the words used to describe flesh-and-blood baseball player David Ortiz. "Big Papi" is about as synonymous with Red Sox baseball as Ted Williams or Carl Yastrzemski. He stands shoulder-to-shoulder with Boston sports legends Bill Russell, Larry Bird, Tom Brady, and Bobby Orr; the greatest of the greats. Is it possible to characterize what one player means to a fan base, a franchise, and a city? In order to find out, I traveled to the cathedral of America's pastime, Fenway Park, to experience one of David Ortiz's final home games as the Red Sox hosted the Baltimore Orioles.
I first spoke to a couple inside an apparel store on Yawkey Way. Mind you, this elderly pair, who asked that their names be withheld, has been making the trip to Fenway for years. How far did they come to see their favorite ball club? They traveled south from Canada to take it all in.
"Greatest player in baseball," the husband said. "He's a great ambassador for the city of Boston. He's a great ambassador for baseball." His wife noted that his smile and personality are contagious. "You see him on the bases always talking and laughing. He just always has a smile on his face. He's genuine."
Chris and Mona Rogers also traveled quite a distance to see the Sox take on the Orioles. The couple flew across the continent, from Sacramento early that morning in order to make it in plenty of time for the game.
When I walked up to them, Mona was debating which David Ortiz jersey to buy. I asked Chris what Ortiz meant to him as a Red Sox fan, especially one that has been emotionally invested in the team for almost his entire life. "He's the one who delivered on the dream," he said simply. "I mean, he did it!" *It could be any number of mind blowing feats, take your pick.
"He better get in the Hall of Fame. That's all I'll say," Chris said with a laugh. It's a popular sentiment among the Red Sox faithful, to be sure. Chris, a life-long Red Sox fan from Rhode Island, brought Mona into BoSox fandom when they got married, and Mona has grown to love her adopted team. "Big Papi, he's the one that brings everyone together," she said. "After the Boston Marathon [bombing], he was the one that said we're going to do this, we're going to get through this. He was the face that was up there."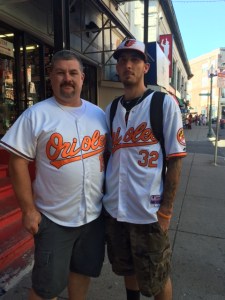 Going back onto the main thoroughfare, I saw two Orioles fans. "Perfect!" I thought. What would these fans of divisional rival Baltimore think of the Red Sox superstar? The two men, Tom Haynes and Brian Farina, drove up from Baltimore and were taking in their first game at Fenway Park.
"He's always been a clutch player," Brian said. "Mr. Clutch," Tom added in agreement. Brian noted that his off-the-field activities endear him to fans as well. "He gives back to the community."
Anthony Iannone, a staffer working for the Red Sox Foundation, the team's main charity arm, concurred. "More and more people are coming out to support [the team and the foundation]. I think he's the backbone of our city. People will never forget his speech and his leadership [after the Boston Marathon bombings]. Even after he retires, his legacy will still be here." Anthony said that Ortiz's smile is what Red Sox fans will miss the most when he puts away his bat and hangs up his cleats. "He's a friendly giant. You can't help but smile when you're around someone like that."
Brian Kenny, the MLB Network host, said that Ortiz transcends his methodology of greatness. "I think he's one of the most significant figures in baseball history. With his combination of excellence and magnetism that he brings, there's not many guys that have that total package and have had the moments that he's had." Kenny said Ortiz is part of the fabric of Boston. "Baseball is really the one sport where a player will be with you through your entire childhood or maybe take you from a teenager to middle age. Baseball players that have careers of 20 years have staying power, and you remember them through the years."
He explained the bonds that fans share with players of that caliber are very strong. "When they retire or get into the Hall of Fame, we have these strong associations of our own lives. A significant part of Boston has grown up with Big Papi being the man right here."
Ortiz's final season seems like a fitting end to this fairy-tale story between player and city. "It's another chapter in the book," Kenny said. "Especially after the World Series title in 2013, where he was someone that you just could not pitch to, he almost becomes this mythic figure."
He said that Ortiz has been so dominant in the postseason that it hinders him from making straight comparisons. "The number of massive moments that he has had in winning championships – in deciding championships – in playoff games and in the World Series puts him so far over the top."
Baltimore Orioles manager Buck Showalter has had to repeatedly square off against David Ortiz and said before the game that he's glad he won't have to face him again after this season. "People that are good for the game and enhance fans' love of the game; obviously the Boston people love David and the things he has done for them on and off the field. Yeah, it's gonna be a loss. You always wonder about who's going to fill their shoes as the old country music song goes but, from an opposing manager standpoint, we're glad to see him retire."
Despite the raucous 38,041 fans behind them, the Red Sox fell into an early 5-0 hole and lost to the visiting O's, 6-3. The crowd became frenzied whenever Ortiz stepped into the batter's box. Cheers of "PAPI" showering the field despite his 1-for-5 effort at the plate, with every inning you could feel the passion of the crowd as they savored every at-bat, knowing how precious few remain in his career.
"We know where we are in the schedule. We know what's ahead of us," Red Sox manager John Farrell said when I asked him if the pressure and urgency surrounding Ortiz's final season could ever be a drawback for the team. "I don't think David's presence is anything but a positive."
Ortiz still has plenty to play for as the regular season nears its end. His team is not only in the hunt to win the AL East, but he can make some MLB history as well. With one more homer, he would pass Mickey Mantle and take sole possession of 17th on the all-time home run list. With three more home runs, he would break the record for most homers in a final season, breaking Dave Kingman's 30-year-old record of 35 set in 1986. Ortiz currently leads the majors in doubles, extra-base hits, slugging, and OPS (on-base percentage plus slugging). He's in the top five in runs batted in and top ten in batting average. Again, this is his final season. Showalter's pregame comments drive home just how good Big Papi has been in his 20th and final season in the big leagues.
"He's a very effective player," he deadpanned. "We hope he doesn't change his mind."
This post was contributed by SiriusXM MLB Network Radio producer, Noah Niederhoffer. Follow David Ortiz and the Boston Red Sox through the postseason on MLB Network Radio (Sirius 209, XM 89).
---
---
---