'Around the Big Ten': Men and women's basketball honors, plus hockey talk
Get up to date on the latest Big Ten news with SiriusXM Big Ten Radio (Ch. 372) host Pete Pistone.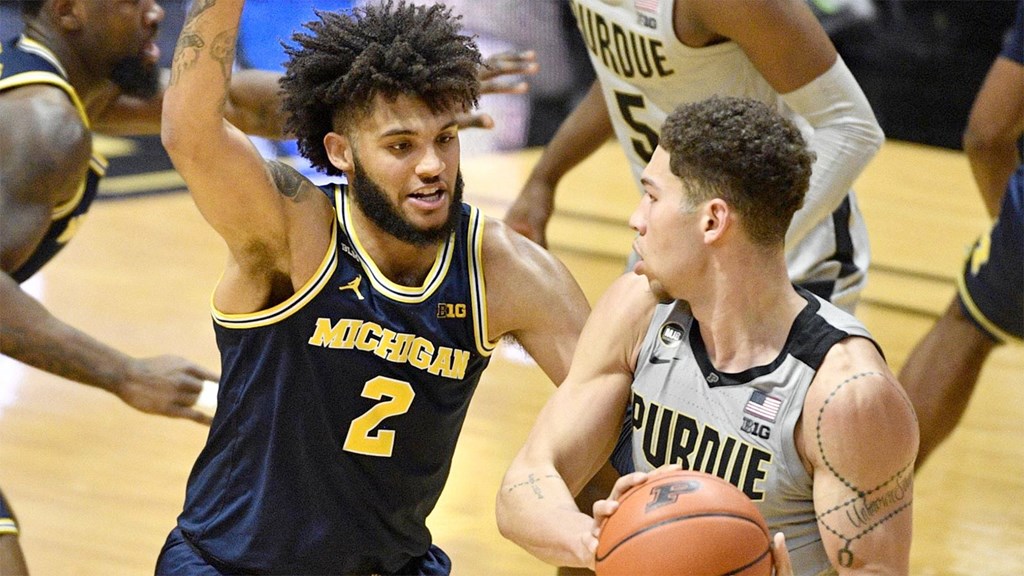 Michigan and Purdue saw tremendous individual performances last week. (Photo: Big Ten)
In this edition of the Around the Big Ten series, SiriusXM host Pete Pistone recaps standout men and women's performances on the basketball court and previews a busy stretch of the hockey season.
For more news and analysis about the conference, listen to SiriusXM Big Ten Radio (Ch. 372) on the SiriusXM app now.

MICHIGAN AND PURDUE SHARE WEEKLY MEN'S BASKETBALL HONORS
Isaiah Livers of Michigan and Jaden Ivey of Purdue were recognized for their outstanding play in men's basketball. Livers was named Player of the Week thanks to averaging 21.0 points, 7.5 rebounds, and 3.0 assists per game in Michigan's wins over Maryland and Purdue. He also got 54.5 percent from the field (12-for-22) on the week, while going 7-for-10 (70.0 pct.) from three-point range. Livers led Michigan in scoring in both games, notching back-to-back 20-plus-point performances. He has now hit the 20-point mark in four contests this season.
Ivey earned Freshman of the Week honors after he averaged 13.5 points, 4.5 rebounds, and 3.5 assists per game in contests against Ohio State and Michigan. Ivey hit the game-winning three-point shot with 5.0 seconds left on the clock in Purdue's win over then-ranked No. 15/No. 18 Ohio State. He also scored a career-high 15 points, while adding two assists and four rebounds. Eight of his 15 points came in the final 3.5 minutes of the contest.
WOMEN'S BASKETBALL HONORS AWARDED
Michigan junior forward Naz Hillmon scored 50 points (20-30 FG), the most by any NCAA player in any division this season, and grabbed 16 rebounds in the Wolverines 81-77 loss to Ohio State on January 21. It was the third 50-point game in Big Ten women's basketball history and first since February 21, 2016, when Minnesota's Rachel Banham posted her second such game in two weeks with 52 points at Michigan State. Hillmon's 50 points also were the most ever by a Michigan player, topping both the women's record (45 by Diane Dietz vs. Illinois on February 27, 1982) and later the men's record (48 by Cazzie Russell vs. Northwestern on March 5, 1966, and Rudy Tomjanovich vs. Indiana on January 7, 1969). Hillmon is the first NCAA Division I women's basketball player with a 50-point/15-rebound game since January 3, 2003, when South Carolina's Jocelyn Penn had 51 points and 15 rebounds against Stetson.
HOCKEY SEASON HEATING UP
Four Big Ten teams appear in the USCHO.com and USA Today/USA Hockey Magazine polls this week. Minnesota leads the conference at No. 4 in both polls, followed by Michigan at No. 8/9, Wisconsin at No. 12/12 and Notre Dame at No. 16 in the USCHO poll. Michigan State and Penn State are receiving votes in the USCHO poll, while Notre Dame is receiving votes in the USA Today/USA Hockey Magazine poll. Minnesota owns a 9-3-0-0 Big Ten record, compiling 27 points to stand in first place through 12 games in the race for the Big Ten Championship and the accompanying first-round bye in the Big Ten Tournament. Wisconsin enters the weekend in second place with 19 points on a 6-4-0-0 record in 10 games, while Notre Dame is third with 18 points and a 5-4-1-1 mark.
---
---