'Around the Big Ten': Football season final grades
Check out SiriusXM Big Ten Radio host Pete Pistone's team grades for the recently completed Big Ten football season.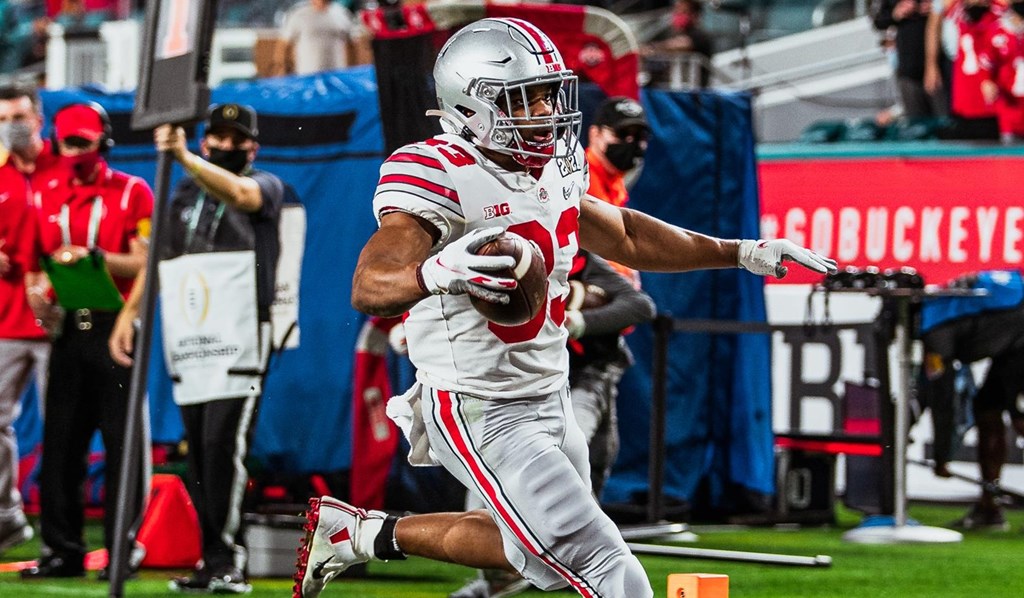 Ohio State made it to the College Football Championship game (Photo: Big Ten)
Pete Pistone hands out his grades for the recently completed Big Ten football season. Check them out below, and start listening to SiriusXM Big Ten Radio (Ch. 372) on the SiriusXM app now.

It wasn't easy. There were times when it looked bleak. Sometimes it felt like there were more downs than ups. But college football made it to the finish line, and the Big Ten was able to get there as well.
The conference had representation in the championship game, and even though Ohio State came up short, the Big Ten just being there was an accomplishment. Controversy swirled around some of the decisions made (and not made), however, there's a lot to be grateful for that there even was a season amid the trials of dealing with the pandemic.
Not every school was able to complete all their scheduled games. Still there was enough play on the field to assign grades to all 14 programs. Class is in session:
OHIO STATE BUCKEYES (7-1)
They went undefeated and represented the Big Ten in the College Football Championship. Even though the Buckeyes ultimately lost to Alabama, their season has to be considered stellar despite the criticism from some about the decision to lower the games played threshold. Couple that with another solid recruiting class and Ohio State easily aced 2020.
GRADE: A
NORTHWESTERN WILDCATS (7-2)
The Wildcats won the West Division to bounce back from a 3-9 effort the year before. Northwestern gave Ohio State a game in the conference title match, just coming up short. But a bowl win at end the year gave Pat Fitzgerald's team a boost into the off-season.
GRADE: A
INDIANA HOOSIERS (6-2)
A definite "Beast in the East," Indiana's regular season loss to Ohio State was the only thing that kept them out of playing for the conference title. Tom Allen received well-deserved honors as one of the sport's best coaches and the rise of Indiana as more than just a basketball school continued in 2020.
GRADE: A
IOWA HAWKEYES (6-2)
Two losses to start the year were a fleeting memory after the Hawkeyes rattled off six straight mostly dominating wins the rest of the way. After a summer of controversy, Kirk Ferentz did a remarkable job rallying his troops and rounding them into a very formidable football team.
GRADE: A
RUTGERS SCARLET KNIGHTS (3-6)
The days of Rutgers being an after thought in the Big Ten may be coming to a close in relatively quick order. Greg Schiano's return to New Jersey resulted in the Scarlet Knights winning as many games as they had the previous four years total. The future looks bright in Piscataway.
GRADE: B
MARYLAND TERRAPINS (2-3)
The team was impacted by Covid cancellations as much as any in the conference. But Mike Locksley made some very strong incremental gains in his second year at Maryland and with quarterback Taulia Tagovailoa in place, next season could be even better.
GRADE: B
MICHIGAN STATE SPARTANS (2-5)
Three games below .500 might sound like it was a bad year in East Lansing but it actually was a promising campaign. One victory came against archrival Michigan in Ann Arbor, and despite the virus-interrupted season, new coach Mel Tucker made an impact.
GRADE: B
PENN STATE NITTANY LIONS (4-5)
An 0-5 start to the year quickly buried Penn State. But James Franklin's team, which dealt with numerous injuries, rallied back to win four straight to end the year.
GRADE: B
MICHIGAN WOLVERINES (2-4)
Disappointing is just one of many words to describe Michigan's season. Jim Harbaugh signed a contract extension and their recruiting class was strong if not spectacular. But the days of Michigan being a Big Ten power are beginning to fade fast.
GRADE: C
WISCONSIN BADGERS (4-3)
It's tempting to give Wisconsin an Incomplete grade because the Badgers were so impacted by Covid. Things started well for quarterback Graham Mertz, but he came back to earth and Paul Chryst has to try and find his team's identity during the off-season.
GRADE: C
PURDUE BOILERMAKERS (2-4)
Another team dealt Covid challenges but Jeff Brohm's team definitely lost a lot of its mojo in the games that were played. Three of Purdue's four losses were by just a single score, so there's a little solace in West Lafayette.
GRADE: C
MINNESOTA GOLDEN GOPHERS (3-4)
The question coming into 2020 for Minnesota was what could the team do for an encore after their thrilling and successful 2019 campaign. The answer was not much. There was a lot of fight in P.J. Fleck's team despite dealing with virus problems all year, and the Gophers did end the season with back-to-back wins.
GRADE: C
NEBRASKA CORN HUSKERS (3-5)
There were times when Nebraska was hard to watch. But despite those transgressions, Scott Frost did have his team put three wins on the board while also dealing with virus challenges. Still the performance did not live up to the expectations in Lincoln.
GRADE: C
ILLINOIS FIGHTING ILLINI (2-6)
Lovie Smith lost his coaching job with a game left in the season and the wheels literally came off the Illinois effort in 2020. New head man Bret Bielema will try to get the ship headed back in a better direction.
GRADE: D
---
---
---