'Around the Big Ten': Football Players of the Week, hoops news & more
In this edition of the Around the Big Ten series, SiriusXM host Pete Pistone offers his latest notes and observations about the conference.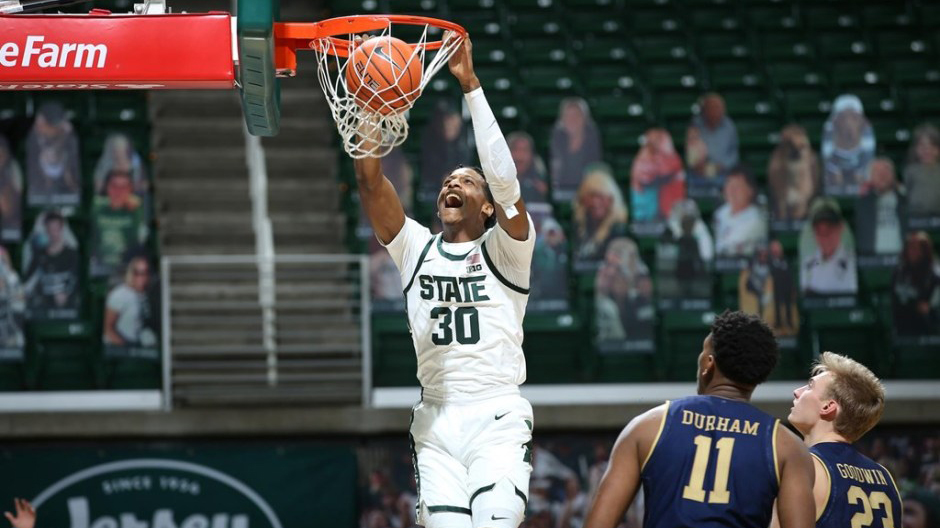 In this edition of the Around the Big Ten series, SiriusXM host Pete Pistone unveils his Big Ten football "Players of the Week," delivers his latest observations about the conference's men's and women's basketball teams, and more.
For more news and analysis about the conference, start listening to SiriusXM Big Ten Radio (Ch. 372) on the SiriusXM app now.

FOOTBALL PLAYERS OF THE WEEK
The jigsaw puzzle of the schedule being impacted by COVID-19 outbreaks around the conference has been an understandable focal point this week. But don't lose sight of some of the outstanding play that is happening on the field and tremendous individual efforts.
Take Offensive Player of the Week Stevie Scott for instance. The Junior Indiana running back Scored a career-high three touchdowns to lead Indiana to a victory against Maryland. Scott Became the first Hoosier with three rushing touchdowns in a game since Jordan Howard in 2015. He has scored at least one touchdown in 16 of his last 22 games and has 26 total touchdowns in that span.
The Defensive Player of the Week was Michigan State linebacker Antjuan Simmons, who recorded a game-high 13 tackles in a victory against Northwestern, one shy of his career best. Simmons was part of a Spartan defense a defense that held Northwestern to a season-low 20 points and handed the Wildcats their first loss of the season.
Last and certainly not least a pair of players shared Special teams Player of the Week honors. Iowa kicker Keith Duncan connected on four field goals in a 26-20 win against Nebraska to move into the top five in school history for career field goals made with 48. Michigan State kicker Matt Coghlin was also recognized for his efforts that included his fourth career game-winning field goal, a 48-yarder with 2:47 left in the game, to put Michigan State on top of Northwestern, 23-20.
HOOSIER QUARTERBACK?
The surging Indiana Hoosiers suffered a big blow when quarterback Michael Penix Jr. was lost for the season with a torn ACL in last week's 27-11 win over Maryland. Tom Allen's team, which is in the thick of the East Division title race, now will turn to redshirt sophomore Jack Tuttle to fill the void. Tuttle was a four-star prospect that committed to the University of Utah before transferring to Indiana. Although he hasn't played much behind now Northwestern-transferred Peyton Ramsey and Penix, Allen believes Tuttle is up to the task. "This is why he came here," Allen told the media earlier this week. "He was a highly recruited player out of high school and has a lot of arm talent. He just needs to understand that he has a lot of talent around him. You only get those opportunities when they are presented and this situation has presented itself to him and he needs to take it on." Tuttle will get thrown into the fire quickly as Indiana travels to Madison to take on Wisconsin on Saturday.
HOOPS, HERE IT IS
The Big Ten tipped off its 116th basketball season with a slate of non-conference games over the last week. Four Big ten teams moved up in the November 30 AP Top-25 Poll with three teams in the current top-five and four teams in the top-ten. Among the opening week highlights Michigan State scoring a win at Duke. The victory gave Spartans head coach Tom Izzo a 3-12 overall record against the Blue Devils. "I'm going to smile and enjoy it because I haven't done a very good job against Duke," Izzo said. "It's been one-sided, so this is one step in the right direction." It was also Michigan State's first-ever win at Cameron Indoor Stadium, albeit without its raucous fans due to the coronavirus pandemic. "I'm not going to put this as an asterisk," Izzo said.
WOMEN'S HOOPS TIP OFF
The Big Ten Women's Basketball season is also off and running. Offense has been the story in the Big Ten through the opening week of the 2020-21 campaign. Conference teams have scored at least 80 points in 11 of 15 games thus far (and Michigan State scored 77 points in its season-opening win over Saint Francis-Pa. on Nov. 27), highlighted by six 90-point games and two 100-point outings. The conference portion of the season gets underway Saturday when Wisconsin travels to Iowa.
---
---
---