'Around the Big Ten': Basketball tournament move, hoop honors & more
In this post, Pete Pistone brings you up to date on the status of the men's basketball conference tournament and spotlights this week's outstanding hoops performances.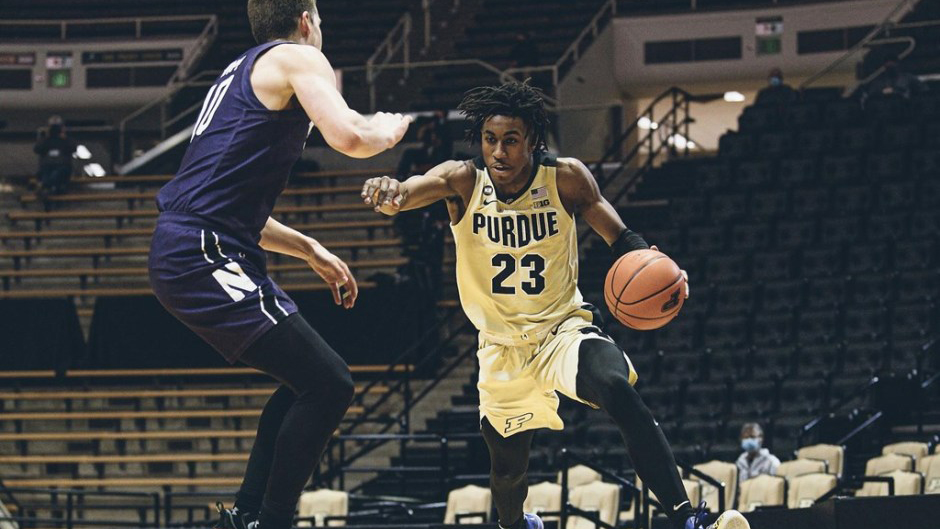 Purdue's Jaden Ivey earned Freshman of the Week honors. (Photo: Big Ten)
In this edition of the Around the Big Ten series, SiriusXM host Pete Pistone brings you up to date on the status of the men's basketball conference tournament and spotlights the outstanding hoops performances of the week.
For more news and analysis about the conference, listen to SiriusXM Big Ten Radio (Ch. 372) on the SiriusXM app now.

MEN'S BASKETBALL TOURNAMENT ON THE MOVE
The Big Ten Conference approved measures to relocate the 2021 Big Ten Men's Basketball Tournament from the United Center in Chicago to Lucas Oil Stadium in Indianapolis. The decision to relocate the tournament was made in collaboration with the Big Ten Council of Presidents and Chancellors and the conference office.
The decision to relocate the tournament to Indianapolis was based on multiple factors. First and foremost was the health and safety of student-athletes, coaches, officials and conference constituents. Hosting both the men's and women's basketball tournaments in the same city allows for cohesive testing and medical protocols for both events, as well as centralized accommodations surrounding the competition venues.
The 2021 Big Ten Men's Basketball Tournament will be held March 10-14 in Indianapolis and will precede the NCAA Men's Basketball Tournament, which was moved to Indianapolis and surrounding communities in the state of Indiana in January.
WEEKLY BASKETBALL HONORS
Illinois' Ayo Dosunmu was named Player of the Week while Purdue's Jaden Ivey received Freshman of the Week honors in men's basketball.
Dosunmu scored 21 points, grabbed 12 rebounds and dished out 12 assists in the Illini's 75-60 win over then-ranked No. 19/N0. 20 Wisconsin. He became just the third player in Illinois history, and the first since 2001, to record a triple-double (Mark Smith, 2/1/79; Sergio McClain 1/13/01). He is also the first Illinois player to record a triple-double against a ranked opponent. Dosunmu recorded the first triple-double by a Big Ten player since Ohio State's JaQuan Lyle (16 points, 12 rebounds and 11 assists vs. Rutgers on 1/13/16). The last Big Ten player to record a 20-plus point triple-double in a conference game was Ohio State's D'Angelo Russell (23 points, 11 rebounds and 11 assists at Rutgers on 2/8/15).
Ivey averaged 17.0 points, 5.5 rebounds and 3.0 assists per game in contests against Maryland and Northwestern. He also added two steals and one blocked shot on the week. The Freshman registered career highs in points (20) and rebounds (seven) during Purdue's 75-70 win over Northwestern and added three assists and two steals in the win. He scored 14 points, grabbed four rebounds and dished out three assists in a tight 61-60 loss at Maryland.
In women's basketball Johnasia Cash of Penn State and Caitlin Clark of Iowa were honored as Player of the Week and Freshman of the Week respectively.
Cash averaged 22.5 points and 11.5 rebounds with a .630 field-goal percentage and a double-double in two Lady Lion victories last week. She recorded 27 points and a career-high 19 rebounds in a Feb. 4 win over Nebraska, extending her streak of consecutive double-doubles to four in a row, the longest by a PSU player since 1997 (Angie Potthoff).
Clark averaged 30.0 points, 5.0 assists and 4.0 rebounds per game in the Hawkeyes' two conference matchups last week. She scored 30 points in both contests at No. 11/13 Ohio State and at home against No. 17 Indiana, giving her a conference-leading six 30-point games this season. Clark finished with nine assists at OSU, one shy of what would have been her sixth double-double this season. She collects the ninth Freshman of the Week award of her career, the second-most freshman honors in a single season (most since Nebraska's Jessica Shepard earned a conference-record 10 awards in 2015-16).
---
---
---