'Around the Big Ten': Basketball honors, hockey stars & spring football on the horizon
In this edition of the 'Around the Big Ten' series, Pete Pistone recaps standout performances on both the basketball court and hockey rink, and more.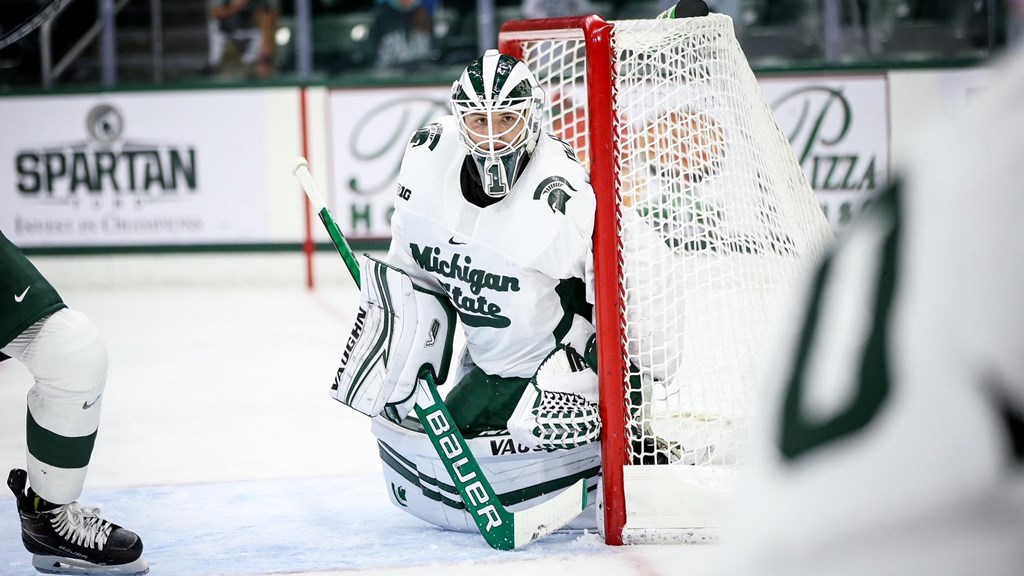 Michigan State continues to excel in hockey. (Photo: Big Ten)
In this edition of the Around the Big Ten series, SiriusXM host Pete Pistone recaps standout performances on both the basketball court and hockey rink plus looks into his crystal ball about what lies ahead in spring football.
For more news and analysis about the conference, listen to SiriusXM Big Ten Radio (Ch. 372) on the SiriusXM app now.

MINNESOTA AND PURDUE EARN BASKETBALL HONORS
Members of both the Golden Gophers and Boilermakers shared the Co-Players of the Week spotlight after outstanding play on the hardwood. Minnesota's Liam Robbins earned his second such recognition of the season after the Junior Center led the Gophers with 22 points and eight rebounds in Minnesota's 75-57 win over previously undefeated and then-ranked No. 7/No. 5 Michigan. Robbins made a season-high eight field goals, including a season-high three 3-pointers, while shooting 8-for-13 (.615 pct.) from the field. He was a perfect 3-for-3 (1.000 pct.) from three-point range and also made all three free-throw attempts (1.000 pct.).
Not to be outdone was Purdue's Trevion Williams. The Junior Forward from Chicago helped the resurgent Boilermakers to wins over Indiana and Penn State as Purdue improved to 10-5 overall on the season and 5-3 in the Big Ten. Williams recorded double-doubles in both contests and has now notched five double-doubles on the season. Has also scored in double-figures in 10 straight games and has averaged 18.0 points and 9.4 rebounds per game during that span. He currently ranks fifth in the country in total rebounds (145) and 11th in made field goals (100).
BIG TEN ON ICE
All seven Big Ten hockey teams teams take the ice this week. Four Big Ten teams appear in the USCHO.com and USA Today/USA Hockey Magazine polls this week. Minnesota leads the conference at No. 4 in both polls, followed by Michigan at No. 8/9, Wisconsin at No. 12/12, and Notre Dame at No. 16 in the USCHO poll. Michigan State and Penn State are receiving votes in the USCHO poll, while Notre Dame is receiving votes in the USA Today/USA Hockey Magazine poll. Minnesota owns a 9-3-0-0 Big Ten record, compiling 27 points to stand in first place through 12 games in the race for the Big Ten Championship and the accompanying first-round bye in the Big Ten Tournament. Wisconsin enters the weekend in second place with 19 points on a 6-4-0-0 record in 10 games, while Notre Dame is third with 18 points and a 5-4-1-1 mark.
FOOTBALL ON THE HORIZON
It's only been a couple of weeks since the college football season ended with Alabama beating Ohio State for the national title. But Big Ten football programs are already hard at work preparing for the 2021 season that all hope will bring more normalcy back to the game than the previous season's Covid-impacted campaign. While virus protocols and procedures are still very much in place on campuses around the conferences, player workouts and preparations are ongoing. If all goes well, a typical spring workout camp will be in place with the return of spring games around the traditional April time period taking place. For those really looking to scratch that football itch, the planned opening of the Big Ten football season is slated August 28 when Nebraska takes on Illinois in Dublin, Ireland. Let's all hope for the luck of the Irish that historic game takes place as planned.
---
---
---