Ann Coulter tells liberals to 'stop obsessing' over Trump's 'personal baggage' on 'Di Paolotics'
"No one was ever for Trump because of his personality or character," Ann Coulter told Nick Di Paolo on F* Politics (Ch. 94).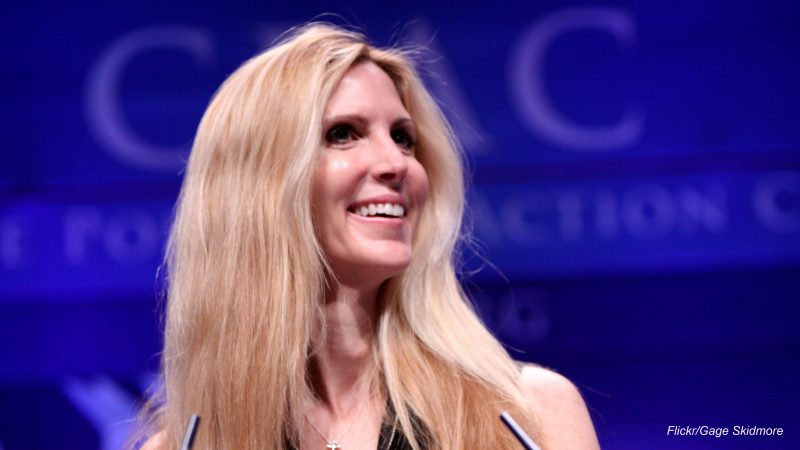 As Donald Trump heads into his final debate against Hillary Clinton tonight, he's still facing fallout from "Tapegate" and multiple women's claims of sexual harassment or assault.
Ahead of the Las Vegas showdown, conservative commentator Ann Coulter — author of In Trump We Trust: E Pluribus Awesome! — urged voters to focus on the Republican nominee's platform instead of his personal life. She spoke to comedian Nick Di Paolo's show on SiriusXM's limited-run election channel F* Politics.
"Don't be distracted by the shiny objects the media is throwing at you," she said after calling into Di Paolotics on Wednesday. "This is the ruling class against the people. There's a reason both my ex-party, the Republicans, and the Democrats have been hysterical about Trump since he announced. They have the whole thing wired. They're dumping low-wage workers on the country, both the Republican and Democratic parties. Through immigration, they're sending jobs abroad, which as only Trump has pointed out, these job-killing trade deals, and they're going to keep the military-industrial complex going with endless, pointless wars in the Middle East. A victory for them, and what you should look for tonight, [would be keeping] Trump from talking about his issues."
Coulter and Di Paolo also discussed what they view as a misconception that presidents must be morally perfect.
"No one was ever for Trump because of his personality or character. Stop obsessing with his personal baggage. It is not about this. It is our only chance to save the country," Coulter said. "We can put dignified, elegant people like Mitt Romney in the White House after that. But first, we've got to save the country."
Coulter then admitted to preferring Bernie Sanders, the progressive Vermont senator who came in second during the Democratic primary and is the longest serving Independent in Congress, to Clinton.
"I liked Bernie Sanders when he was a socialist. It was when he became a liberal that he lost me," she said.
"Right," Di Paolo agreed. "And then he endorses Hillary, so he has no spine, either."
Hear Di Paolotics daily from 10-11 a.m. ET on SiriusXM Comedy Greats (Ch. 94).
For a free 30-day trial, check out http://www.siriusxm.com/freetrial/blog. 
---
---
---