Andy Cohen on Donald Trump: 'If he f***s with my civil liberties, that's when I'm gonna have a problem'
Andy Cohen told Jess Cagle about his past encounters with our President-elect during a special SiriusXM Town Hall.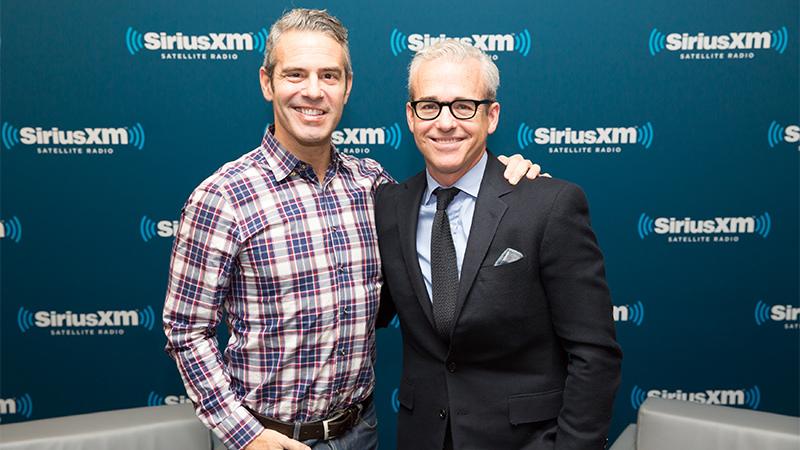 From one reality TV maven to another, Andy Cohen 's message to Donald Trump is cautiously optimistic. He hopes that the President-elect can "make America great again" — even if Cohen himself is not happy with the election results.
During a special SiriusXM Town Hall, Jess Cagle asked Cohen to complete the sentence "My recurring nightmare is …"
"Donald Trump becoming president," Cohen replied.
"It's going to be a while before you wake up from that one, my friend," Cagle quipped.
Cohen's views aren't simply political;h e has met Trump "many times" and got "a bad vibe."
Specifically, the Bravo exec has hosted Trump's pageants until 2013, when he learned the Miss Universe pageant would take place in Russia, a country that had just passed a law discriminating against the LGBT community. As a gay man, Cohen had reservations about visiting Russia and told his pageant co-host, Giuliana Rancic, that he had declined the offer to host.
"Giuliana Rancic broke that story on E! that I had refused to do it, and then Donald Trump called Page Six and told them that I had never been offered the job," Cohen said, suggesting that Page Six didn't get the full story. "So anyway, he's our president now!"
Still, Cohen isn't totally cynical about the outcome of the election.
"I hope that we can all come together," he continued. "And, by the way, I'm not rooting against him. I want him to succeed, because if he succeeds, our country succeeds. And I hope he gets jobs for everybody. I understand why she lost, and I didn't get it before, and I want him to bring these two countries that we clearly live in together, and I want him to make things better for the people for whom life is not good. And I hope he does, but if he f***s with my civil liberties, that's when I'm gonna have a problem. That's where I'm at. And I just don't want him to be a bigot and I want them to take his Twitter away."
Another gig Cohen won't take? The job as permanent co-host on Live with Kelly. Despite his close friendship with Kelly Ripa, Cohen said his network obligations and love for his late-night Bravo show Watch What Happens Live make the rumor just that: a rumor.
"First of all, they've never courted me or asked me. It has been an incredible gift from the media that two times when that job has come up, I have been mentioned in the press as someone who is a contender, but never have I thought in reality that I was, because … no one ever reached out to me. Kelly always very kindly said, 'Oh my God, how much fun would we have?'" he explained. "And then also, the truth is I have a contract with NBC Universal, which is a competitor of ABC Disney. Big media companies, they don't like to share their talent."
"Except somehow with Ryan Seacrest,who weirdly gets away with working for every company on the planet. That—I will share with you guys—I've never understood, and I'm always like, 'Well, why does he get to work for every major company in the world but I can't?'" he added as the crowd laughed. "I just would never want to give up Watch What Happens Live because it's so me and it's so my own thing. There will be no other show that I could ever do that would be a representation of me the way that is."
The Town Hall premieres Tuesday Nov. 15 at 2 p.m. ET on SiriusXM Radio Andy (Ch. 102) and Entertainment Weekly Radio (Ch. 105).
For a free 30-day trial, check out http://www.siriusxm.com/freetrial/blog 
---
---
---