Andy Cohen + Luann de Lesseps spill RHONY tea on Wake Up with Taylor
On Wake Up with Taylor, Luann de Lesseps said Dorinda Medley and Sonja Morgan didn't speak at her bridal shower.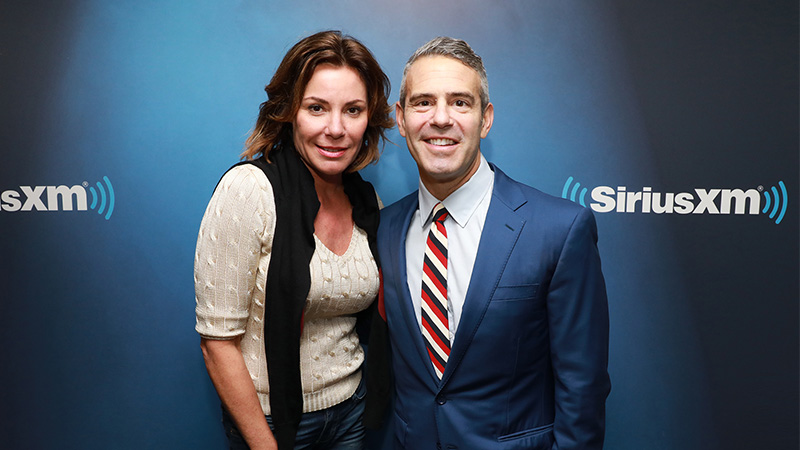 The Real Housewives of New York City's eighth season ended last month with an explosive three-part reunion, and the shock waves are still reverberating.
Star Luann de Lesseps and executive producer Andy Cohen (who curates his own SiriusXM channel) stopped by Wake Up with Taylor! on Monday morning and revealed that the tensions stemming from her upcoming wedding to a man linked to two other Housewives carried over off-screen.
De Lesseps said Dorinda Medley, who introduced her to fiance Tom D'Agostino, will be a bridesmaid at her New Year's Eve nuptials. She and Sonja Morgan, who has claimed D'Agostino was her lover for years, both attended the bridal shower but weren't exactly on good terms.
"Dorinda and Sonja were there, and they did not speak," she said.
[protected-iframe id="0ef981885f34b751a143b14531ef9501-55502104-103291736" info="https://w.soundcloud.com/player/?url=https%3A//api.soundcloud.com/tracks/288680498&color=ff5500&auto_play=false&hide_related=false&show_comments=true&show_user=true&show_reposts=false" width="100%" height="166" scrolling="no"]
Cohen also revealed the one time de Lesseps got mad at him was when he joked about her crabs on Watch What Happens Live and didn't comment on the rest of the Bravo special about her life. Luckily, she didn't hold a grudge.
"Everyone could take a lesson from Luann," Cohen said. "This woman could go into a situation, get really verbally beaten up — "
"Like Bethenny destroyed her," host Taylor Strecker said of RHONY's Frankel, who brought photos of D'Agostino kissing another woman to the Countess's attention.
"Tried to," de Lesseps interjected.
"Right, and walk out of it," Cohen said. "She has a really strong consistency. I know you're from Connecticut, but you do have a European consistency because you really can just go in and you're very strong. I really give it up, which is why when you do show your vulnerability, I know that it's real."
Listen to the clip below to hear why Cohen thinks RHONY is the franchise's funniest location. Wake Up with Taylor airs weekdays from 7-10 a.m. ET on SiriusXM Stars (Ch. 109). You can find Radio Andy on Ch. 102.
For a free 30-day trial, check out http://www.siriusxm.com/freetrial/blog. 
---
---
---