Amy Schumer opens up about her sexual assault: People 'want you to be a perfect victim'
Amy Schumer also discussed the future of her Comedy Central show.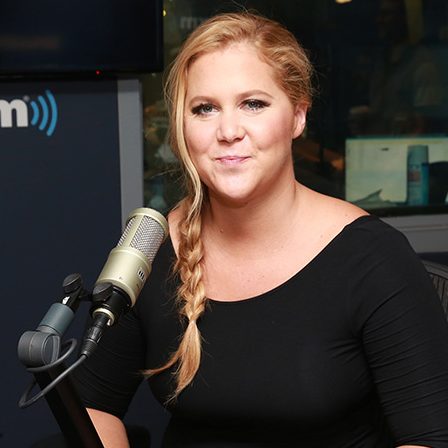 Amy Schumer had sex for the first time at age 17 — and, as she writes in her new memoir The Girl with the Lower Back Tattoo, it wasn't consensual.
"I was in and out of sleep. We were just kind of lazily watching TV," she said Tuesday of her then-boyfriend on The Howard Stern Show. "We'd never had sex, and I could feel that he was touching me and I thought he was fingering me and it started to hurt and I looked down and I was like 'What are you doing?' He was like, 'I thought you knew.'"
The Trainwreck star said she stayed with him because he seemed so remorseful that he mentioned suicide: "He knew that I didn't know he was inside of me. And I'm comforting him, because he was my boyfriend, I loved him," she explained. "And then I got angry after, you know? And it messed me up. My trust issues are terrible."
The chapter describing the assault went viral as soon as it hit the Internet. Why share such a personal and painful part of her past?
"It's made me feel less alone when other women have come forward about being sexually assaulted, and also because it's not this perfect rape. People want you to have been raped perfectly, and they want you to be a perfect victim, but people hear me say that and they go, 'No, she's like a slut, and I bet she knew' — like right away you start doubting," she said. "We're so critical, and it makes victims want to not really speak up, and so I think it's me saying look, I didn't have a perfect rape, but my virginity was taken from me, and it was not in a cool way. And you know, it's also this situation of I didn't want to press charges against him."
Schumer added that she's called the incident "grape" in her stand-up because it falls into a gray area of "how to handle" rape by a partner.
"It's not like, 'Well I'm going to the precinct and you're gonna be serving time.' It's more complicated than that unfortunately," she said.
Schumer then described a physically and emotionally abusive relationship in her early 20s, when a different boyfriend chased her with a knife.
In the end, she left the relationship to save herself.
"It just hit me like a ton of bricks, like he's going to kill me eventually, and I need to get out of here," she said. "And honestly a big thought of why I did [leave him] was for my little sister. I just thought, 'I can't do this to her. I can't let her get this phone call.'"
Schumer got caught up in an online firestorm last week when Kurt Metzger, a former writer on her Comedy Central show Inside Amy Schumer, wrote a trolling Facebook post about women who accuse comics of rape.
She publicly disavowed his comments but tweeted that she "didn't fire" him because of the controversy, saying, "He isn't a writer for my show because we aren't making the show anymore."
On the Stern Show, Schumer set the record straight about the sketch series, clarifying it hasn't been cancelled — she just needs a break.
"We're scheduled for another season but I just can't see doing it any time soon," she said, citing her packed film schedule and this summer's health problems. "I'm tired, and it's a lot of energy, and I can't do it right now."
For more coverage of The Howard Stern Show, follow@sternshow on Twitter. Hear more Howard on SiriusXM Ch. 100 and 101.
For a free 30-day trial, check outhttp://www.siriusxm.com/freetrial/blog. 
---
---
---