Alternative Christmas Songs: 10 Tracks for an Anything-But-Traditional Holiday
Not a fan of Christmas classics? Check out these refreshing alternatives!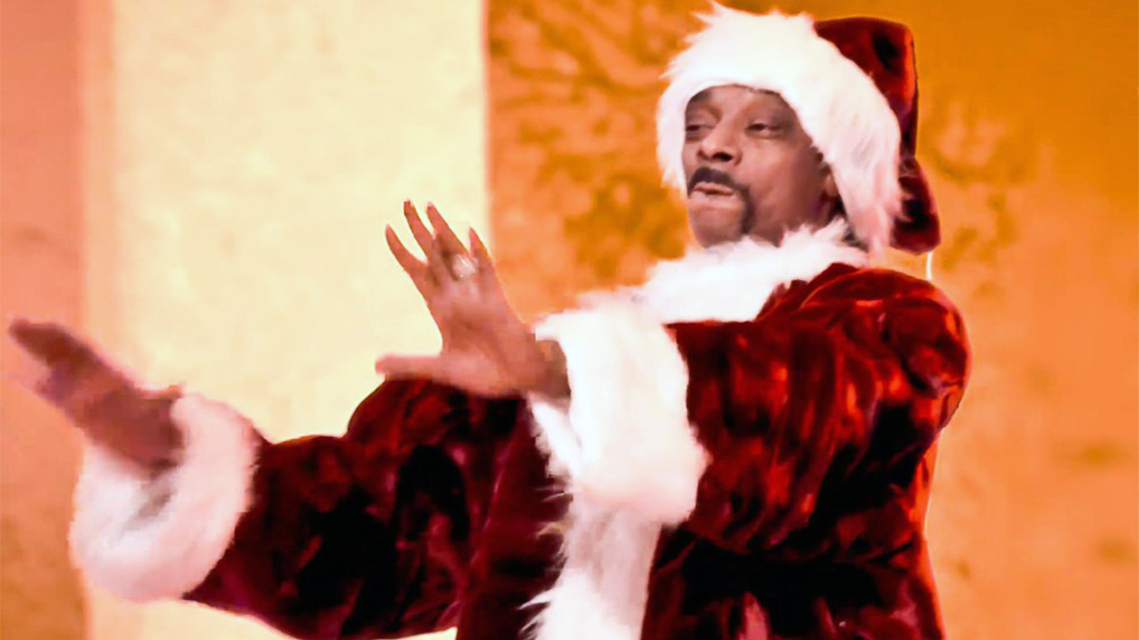 Snoop Dogg in 'Mariah Carey's Magical Christmas Special'. Credit: Alamy
Are you tired of hearing the same old Christmas songs on repeat? Let's face it, while certain tunes become classics for a reason, hearing them non-stop throughout the holiday season can wear you down. So, with that in mind, we've compiled a list of 10 alternative Christmas songs that offer a refreshing take on the season while still keeping the festive spirit alive.
Be sure to check out SiriusXM's collection of festive channels featuring a variety of music for the season, whatever your preference — all available on the SXM App.
---
1. "Don't Shoot Me Santa" – The Killers (2007)
Released in 2007 in support of AIDS charities organized by Product Red, "Don't Shoot Me Santa" represented The Killers' second Christmas song after 2006's "A Great Big Sled." The song sees the Las Vegas quartet take a darker approach as they lend their signature soulful form of heartland rock to the holiday season, making for a break from the typical upbeat festive fare.
For more pop and rock hits from the 90s and 2000s, check out PopRocks (Ch. 12).
2. "A Winter's Tale" – Queen (1995)
This psychedelic masterpiece appeared on Queen's 1995 album Made in Heaven, which was released four years after Freddie Mercury's death. Mercury's lyrics, which describe his view from his window while writing the song, add a dream-like quality that is aided by Brain May's visionary guitar solo, which was only written after Mercury's passing.
If you're looking for a place where classic and modern rock meet, then The Spectrum (Ch. 28) is where you want to be.
3. "I Won't Be Home for Christmas" – Blink-182 (2005)
A parody of the Christmas classic "I'll Be Home for Christmas," this song features Blink-182's trademark tongue-in-cheek humor as it tells the story of a man who snaps on Christmas Eve and attacks a group of carolers. Initially released as a radio promo in 1997, it was reissued as a single in 2001 and even topped the Canadian singles chart.
Get more punk in your life with FACTION PUNK (Ch. 314).
4. "Christmas Time (Don't Let the Bells End)" – The Darkness (2003)
Even though this festive rock song takes on the usual structure and trappings of a Christmas classic, there are enough cheeky puns and face-melting guitar riffs scattered throughout that make it a hilarious parody for the attentive listener to enjoy.
Tune in to Rockin' Xmas to keep jamming to festive rock favorites.
5. "Snowman" – Sia (2017)
While Sia's balladic take on Christmas was released in 2017, it enjoyed its peak popularity in 2020 after the song was picked up on TikTok. This, in turn, led to the "Slowed Down & Snowed In" remix, which was released a month later.
Discover more contemporary holiday hits on Holly (Ch. 104).
6. "I Saw My Mommy Kissing Santa Claus" – Amy Winehouse (2004)
While many will be familiar with Jimmy Boyd's 1952 original, Amy Winehouse's funky, soulful rendition of this Christmas classic brings a whole new spin to the song. Originally recorded for the BBC in 2004, it was re-released in 2020. It's a fun, upbeat number that reminds us of the late singer's incredible talent.
Keep the Jazz vibes going this Christmas with Cool Jazz Christmas.
7. "Christmas Tree" – Lady Gaga (2010)
Definitely not one for the family playlist! This dance-pop banger samples several other Christmas songs, including "Deck the Halls" and "The Little Drummer Boy." Despite widespread criticism for its sexual innuendos, Lady Gaga's controversial Christmas carol enjoyed some pretty solid digital sales back in 2010, and it remains a guilty pleasure for many.
For more modern feel-good holiday hits, check out Jolly Christmas (Ch. 14).
8. "No Presents For Christmas" – King Diamond (1985)
Released as a standalone single, "No Presents For Christmas" begins with renditions of classic Christmas carols before quickly taking a darker turn. King Diamond's laughter and iconic falsetto scream waste no time interrupting proceedings alongside roaring guitar riffs. This headbanging classic is perfect to listen to during the holiday season and beyond.
For an extra dose of '80s heavy metal, check out Ozzy's Boneyard (Ch. 38)
9. "Santa Claus Goes Straight to the Ghetto" – Snoop Dogg (1996)
Titled after James Brown's song of the same name, Snoop Dogg recorded this song with Daz Dillinger, Nate Dogg, Tray Deee and Bad Azz in 1996, and it featured on the album Christmas on Death Row. It's as fun as you'd expect from Snoop and the crew, with great lyrics and a solid beat.
Looking for more festive hip-hop and R&B? Then check out Jingle Jamz.
10. "Christmastime" – The Smashing Pumpkins (1998)
Initially released in 1997 as part of A Very Special Christmas 3 in support of the Special Olympics, "Christmastime" has since been covered by a number of other artists. It's The Smashing Pumpkins' original that stands out, as Billy Corgan's haunting vocals blend perfectly with the sound of sleigh bells.
Discover the true meaning of holidays with Christmas Spirit (Ch. 63).
---
For more festive favorites to keep you rocking through the season, check out SiriusXM's host of holiday music channels.
---
---
---