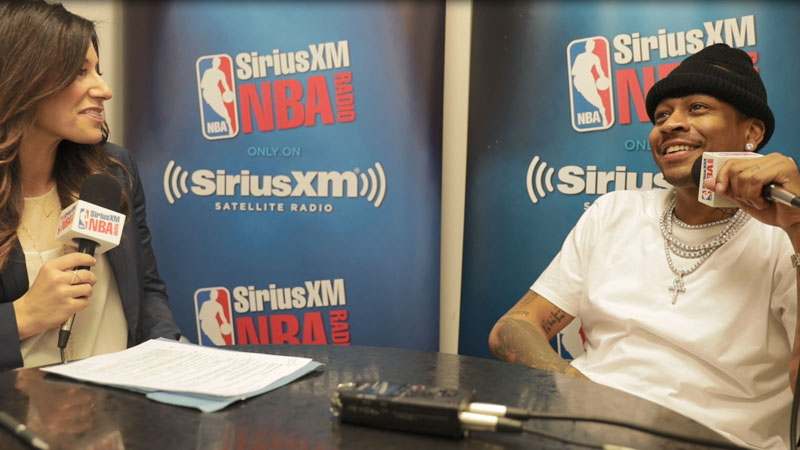 Allen Iverson still loves everything about the NBA. Whether he's talking about the process of rebuilding his 76ers, or Russell Westbrook's historic quest to join Oscar Robertson by averaging a triple-double for an entire season, "The Answer" can't help but smile and shake his head.
Joining SiriusXM NBA Radio host Tina Cervasio from the NBA Store in New York City, Iverson asked for patience from Philly fans as the team continues to grow with young, star-studded talent.
"I love them so much. I'm rooting for them so much. I think our future is so bright," said the Naismith Memorial Basketball Hall of Famer. "I feel like it's important for us to be patient, let the process happen. We'll be alright, we'll get back to prominence like we always been."
A.I. also made his pick for the regular season MVP in no uncertain terms. Even though he loves the play from James Harden, Kawhi Leonard, and of course, LeBron James, Iverson is amazed by Westbrook averaging a triple-double (31 points, 10 rebounds and 10 assists per contest through 70 games) this season.
"I think hands down it's Russell Westbrook because we never thought this would happen again," Iverson said. "Even if he doesn't accomplish that, which I know he will, still, just getting that close to excellence … I mean, you gotta take your hat off to him."
.@alleniverson says @russwest44 is "hands down" the MVP of the @NBA season – agree or disagree? pic.twitter.com/bJ1aAuV7eA

— SiriusXM Sports (@SiriusXMSports) March 21, 2017
For the latest in the NBA, listen to SiriusXM NBA Radio Ch. 86, Sirius Ch. 207.
---
---