Alabama leads the way in latest CFP rankings but chaos lurks with Championship Weekend
Alabama stays #1 in the polls, while Washington slides into the playoff picture after Michigan's loss to Ohio State.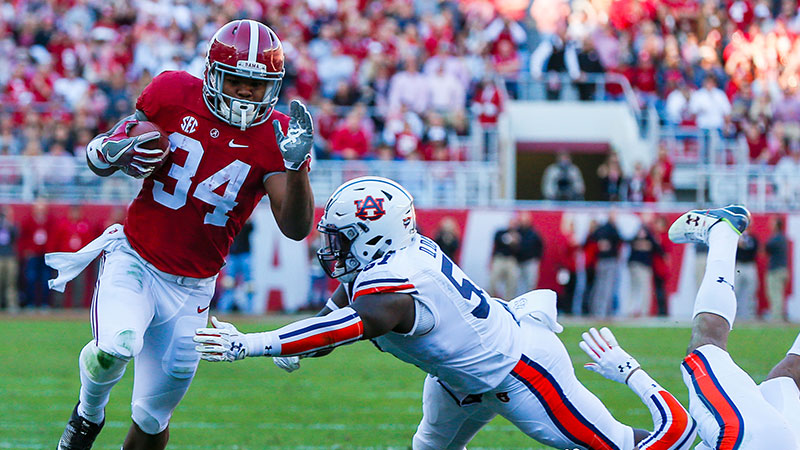 Alabama once again was the top team in the College Football Playoffs poll, but with Michigan falling in dramatic fashion to Ohio State there was still some shake up in the top four. Out are the Wolverines and in are the Washington Huskies at the #4 spot. Ohio State, despite their loss to Penn State back in October, are #2 and Clemson held pat at #3.
The omnipotence of Alabama is hard to ignore. Like most Alabama football seasons of course, but In their season-long beat down the Tide have left a wake of carnage and their opponent's broken dreams. Typically, 'Bama have one game where they slip up and actually lose a game in the regular season (see: Ole Miss in 2014 and 2015, LSU in 2011, Auburn in '13, you get the idea.) Not so this year and with a win in the Iron Bowl last weekend the Crimson Tide roll into the SEC Championship Game against Florida. Should we expect a chaos-inducing Gator upset? Maybe not, but College Sports Nation's Andy Staples discusses Championship Weekend and the chaos that's sure to ensue.
"It's chaos, which is exactly what college football is supposed to be":
"It's chaos, which is exactly what college football is supposed to be": @Andy_Staples reacts to newest #CFP rankings pic.twitter.com/OMT1d7sSLh

— SXM College Sports (@SiriusXMCollege) November 30, 2016
---
---