Adam West, TV's beloved 'Batman' actor, dies
Entertainment Weekly Radio is remembering the superhero.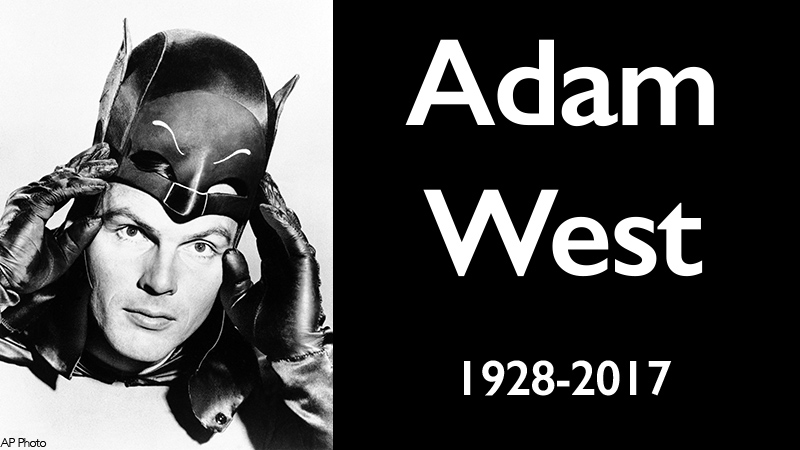 It appears some television viewers prefer "Batman", shown March 17, 1966, over the Gemini 8 coverage. The ABC-TV network, which airs the show on Wednesday nights, reported 1,000 telephone calls protesting the interruption of the show for reports on the space flight. Adam West portrays the hero in the series. (AP Photo)
Hollywood is mourning the man who brought camp to the caped crusader.
Adam West, who played Batman on ABC's hit 1960s series, died Friday night after battling leukemia, according to The Hollywood Reporter. He was 88.
Entertainment Weekly Radio (Ch. 105) sat down with the iconic actor at San Diego and New York Comic Con two years ago — fresh off the news that Ben Affleck would be the next actor to don the bat-suit.
"I never gave them advice," West said of his successors. "I think that would be wrong, because everyone, they're all talented, and we all try to bring something new or fresh to the role and service the intent, what the writers wanted or look for."
Burt Ward, the Robin to West's caped crusader, remembered his co-star in a statement Saturday.
"I am devastated at the loss of one my very dearest friends," Ward said, according to Variety. "Adam and I had a special friendship for more than 50 years. We shared some of the most fun times of our lives together. Our families have deep love and respect for each other. This is a terribly unexpected loss of my lifelong friend. I will forever miss him. There are several fine actors who have portrayed Batman in films. In my eyes, there was only one real Batman that is and always will be Adam West. He was truly the Bright Knight."
For coverage honoring West's career, tune into EW Radio.
---
---
---