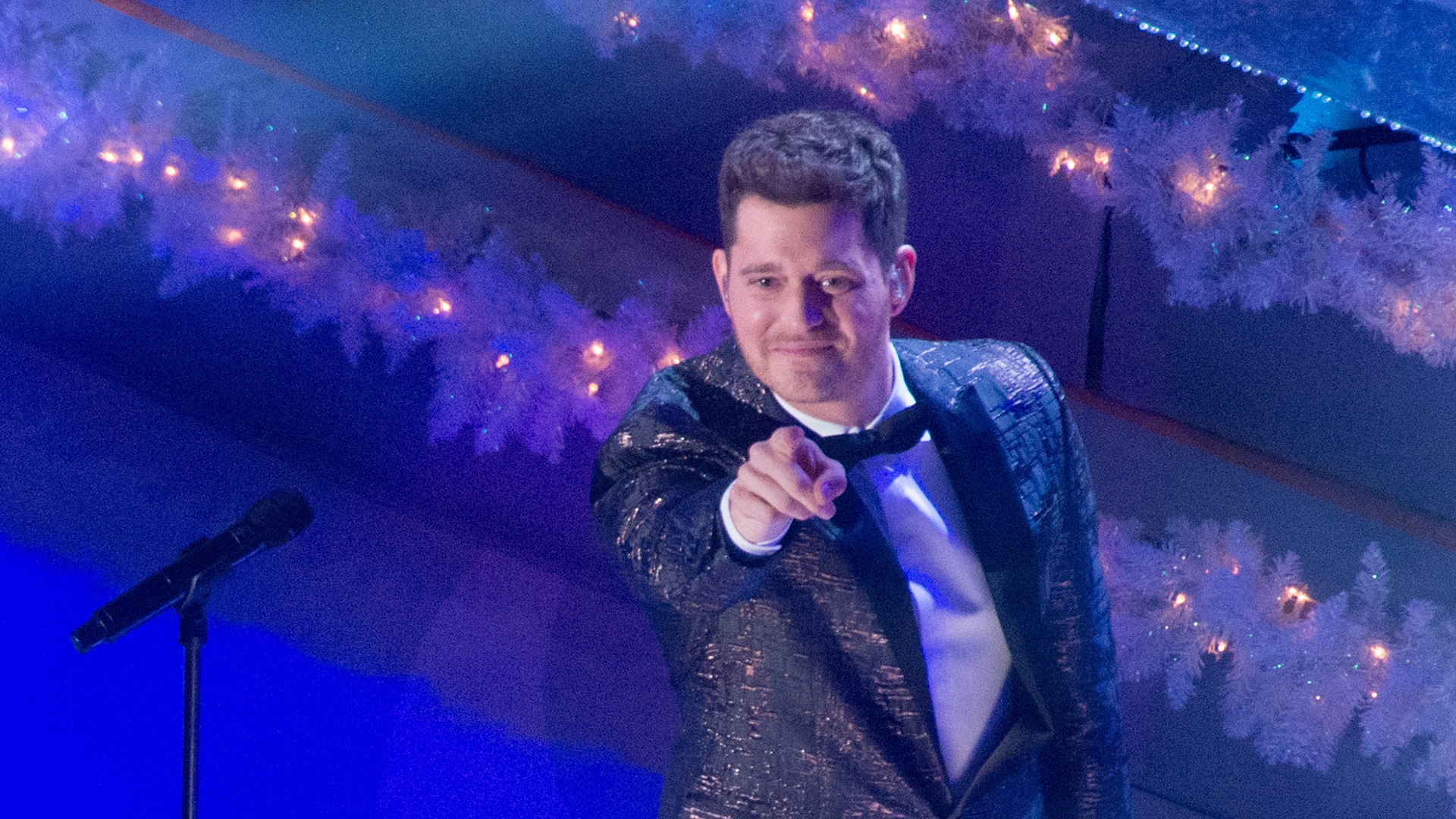 Photo by Noam Galai/Getty Images
It's tiiiiiiimmmeee! Following Mariah Carey's annual announcement, the holiday season has officially begun.
Whether you're decking the halls or writing your Christmas list, we all know the best way to get into the festive spirit is by listening to some iconic Christmas tunes. From classic carols to merry pop, heartwarming country, and jingle bell jazz, we've picked out the 20 best Christmas albums (in no particular order) to help you start this year's countdown to December 25!
---
Related: What Channel is Christmas Music on SiriusXM?
---
20. Mariah Carey – 'Merry Christmas'
No Christmas is complete without the queen of the holiday season herself, Mariah Carey! Released in 1994, this album is best known for the hit single "All I Want For Christmas Is You," which went on to become one of the best-selling Christmas songs of all time. The album also features classics like "Silent Night" and "Joy To The World," where Carey's vocals bring a fresh touch to these memorable carols. 
19. Taylor Swift – 'The Taylor Swift Holiday Collection'
We'll never forget Taylor Swift's Christmas era! Consisting of six tracks, including two originals from Swift, The Taylor Swift Holiday Collection perfectly showcases the singer-songwriter's incredible vocals and ingenious writing skills. This is truly the Christmas album of our "Wildest Dreams." 
18. Frank Sinatra – 'A Jolly Christmas From Frank Sinatra'
The album may have been released 66 years ago, but A Jolly Christmas From Frank Sinatra never fails to put us in the festive mood. From "Jingle Bells" to "The First Noel," Frank Sinatra's smooth vocals are guaranteed to make you feel so warm and nostalgic. Whether you're sipping a hot cocoa or tucking into a festive feast, this timeless classic is a staple of any good Christmas playlist!
17. Michael Bublé – 'Christmas'
Considered a modern holiday classic, Michael Bublé's Christmas album gives us a jazzy take on some of our all-time favorite festive bops. Having sold over 12 million copies worldwide, this album proved itself to be the perfect soundtrack for Christmas. Following its huge success, the album was re-released in 2012 and saw Bublé team up with artists like Shania Twain and Rod Stewart. Now, that's what we call a dream team! 
16. Elvis Presley – 'Elvis' Christmas Album'
Elvis' Christmas Album was a huge success and has remained a Christmas staple for nearly 70 years. Songs like "Blue Christmas" allowed Elvis to merge his iconic rock 'n' roll sound with the cozy vibes of the holiday season, making it an instant Christmas classic for years to come.
15. Kelly Clarkson – 'Wrapped In Red'
With powerful vocals and iconic Christmas anthems, Kelly Clarkson's Wrapped In Red is an essential listen. While Clarkson may be defined by her pop-rock sound, she drew inspiration from a variety of different genres to create the perfect holiday vibe for her first Christmas album. So, whether you like jazz, country, or soul, Wrapped In Red has something for everyone!
---
Related: Kelly Clarkson Curates Her Own Year-Round Music Channel on SiriusXM
---
14. Kacey Musgraves – 'A Very Kacey Christmas'
With a unique blend of country and pop, Kacey Musgraves brought an acoustic and modern feel to Christmas with her 2016 album A Very Kacey Christmas. Accompanied by artists such as Willie Nelson and Leon Bridges, Musgraves' dreamy album is the only Christmas gift we need this year! 
13. Stevie Wonder – 'Someday At Christmas'
Looking for festive R&B songs? We've got you covered! Released as his first Christmas album, Stevie Wonder's Someday At Christmas is a unique take on holiday music. Wonder's soulful voice and beautiful melodies are the perfect treat for your ears this Christmas.
12. Bob Dylan – 'Christmas In the Heart'
Releasing a Christmas album is probably the last thing you'd expect of folk legend Bob Dylan, but that's exactly what he did back in 2009. His alternative takes on certain Christmas classics are perfect for anyone looking to break from the usual holiday traditions this year — with the single "Must Be Santa" being a particular standout with critics. And in the true spirit of Christmas, Dylan donated all his royalties from the album to many charities, such as the United Nations' World Food Programme.
11. Kenny Rogers and Dolly Parton – 'Once Upon a Christmas'
Yes, that's right — the "Islands In the Stream" duo joined forces once again, and this time it was in the name of Christmas! In songs like "A Christmas To Remember" and "With Bells On," the famous match-made-in-heaven harmonies of Kenny Rogers and Dolly Parton proved to be the perfect Christmas gift, with the album being certified platinum twice.
10. Nat King Cole – 'The Magic of Christmas'
If it's a nostalgic Christmas vibe you're going for this year, then look no further than the best-selling Christmas album of the '60s! Let tracks like "Joy To The World" and "Deck The Halls" fill your home with merriness, as you wish for a holiday season as smooth as Nat King Cole's voice.
9. Vince Guaraldi Trio – 'A Charlie Brown Christmas'
Charlie Brown and Christmas music? Sign us up! Released in 1965, A Charlie Brown Christmas blends together the fun of our favorite characters from 'Peanuts' with the joyful sounds of Christmas music. It may have been released in 1965, but this jazzy little album is sure to warm your heart this festive season. 
8. The Beach Boys – 'The Beach Boys' Christmas Album'
It's time to take Christmas to the beach. On this album, the sun-kissed harmonies of The Beach Boys will have you exchanging snow for sand, sleighs for surfboards, and warm winter coats for swimsuits. But don't be fooled — with original holiday-themed tracks like "Little Saint Nick" and "The Man With All The Toys," this album is as Christmas as it gets!
7. Bing Crosby – 'Merry Christmas'
With his version of "White Christmas" being the best-selling physical single of all time with over 50 million sales, we think it's safe to crown Bing Crosby as the King of Christmas. This gift of an album doesn't stop there with the classics though, as Crosby can also be heard crooning other holiday hits like "Jingle Bells" and "Santa Clause Is Coming To Town."
6. Justin Bieber – 'Under The Mistletoe'
Mariah Carey's "All I Want For Christmas Is You" also makes an appearance on Justin Bieber's first Christmas and second-ever album, Under The Mistletoe. The two singers turned the song into a duet and gave it more of an electric-pop flare. The festive music video, which has had over 222 million views to date, features both Carey and Bieber in a fun Christmas mall setting.
5. Emmylou Harris – 'Light Of The Stable'
Released in 1979, Emmylou Harris' Light Of The Stable takes traditional Christmas carols and turns them into country tunes. Harris' angelic voice perfectly compliments the sounds of the festive season, transporting her listeners to the ultimate winter wonderland. 
4. Sufjan Stevens – 'Songs For Christmas'
A fun collection of holiday tunes, Songs For Christmas by Sufjan Stevens is the perfect soundtrack to all your festive activities. Made up of five separate EPs, Songs For Christmas is a wholly unique and interesting take on Christmas music. With original memorable songs like "That Was The Worst Christmas Ever!" and "Come On! Let's Boogey To The Elf Dance!," you're sure to love this 42-track collection!
3. Ariana Grande – 'Christmas Kisses'
Ariana Grande may be known for her unforgettable pop music, but did you know that she also makes incredible holiday music? Best known for the hit single "Santa Tell Me," Christmas Kisses brings a touch of love and romance to the festive season, and is an absolute essential on any December playlist!
2. Ella Fitzgerald – 'Ella Wishes You A Swinging Christmas'
With her signature vocals and impeccable jazz arrangements, Ella Fitzgerald's Ella Wishes You A Swinging Christmas is a timeless classic. Fitzgerald brings a touch of personality and unique style to these iconic holiday tunes. This is best seen in her rendition of "Jingle Bells," where she hilariously exclaims, "I'm just crazy about horses" at the end of the song. With Ella Fitzgerald, your Christmas is sure to be a swinging one!
1. John Legend – 'A Legendary Christmas'
A John Legend holiday album has always been at the top of our Christmas list, so you can imagine how excited we were for the release of A Legendary Christmas back in 2018. Legend's soulful vocals create a feeling of nostalgia and coziness that is just perfect for this time of year. We guarantee that you'll be listening to this one for years to come!
---
---
---