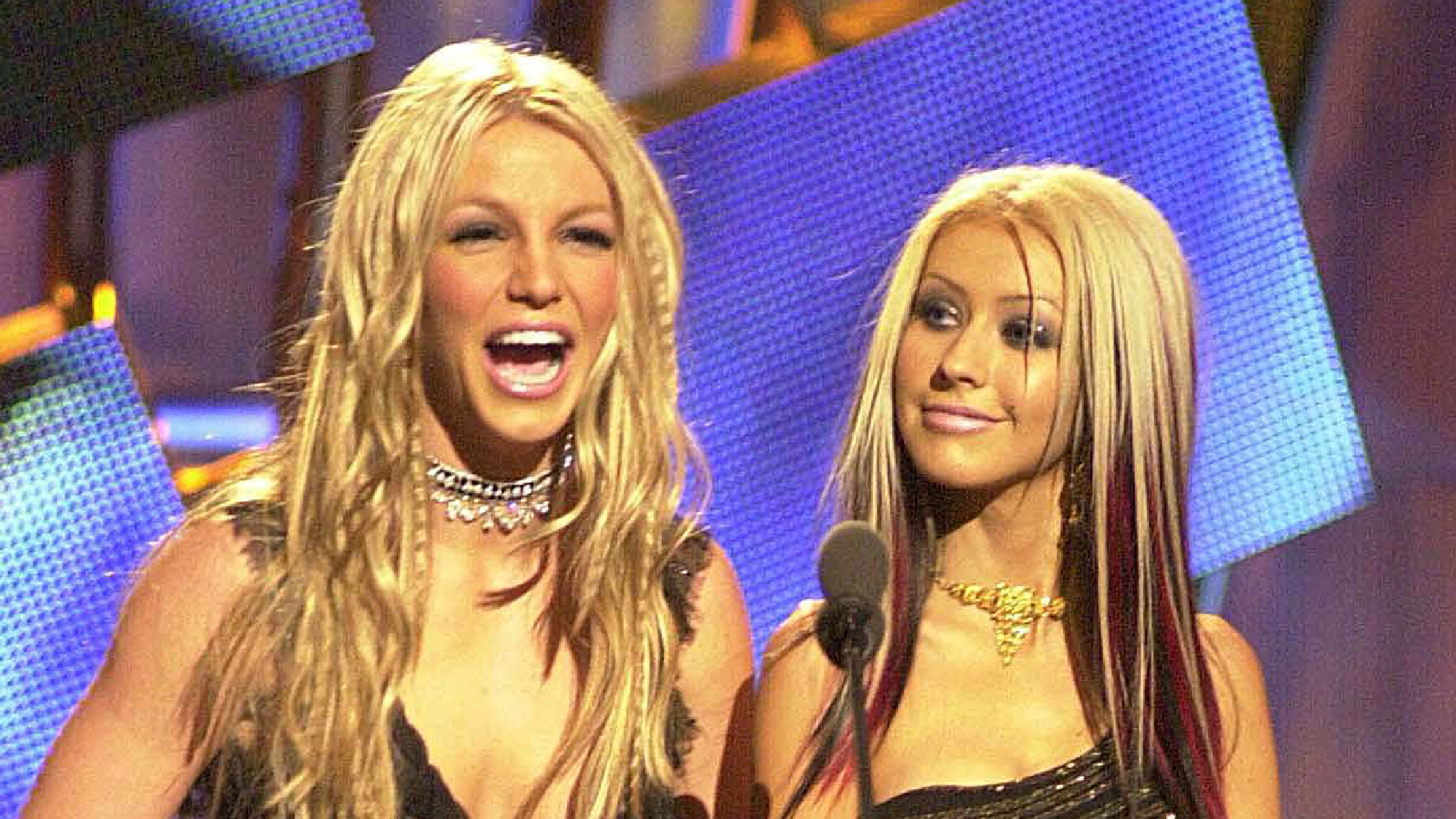 Photo by Jeff Kravitz/FilmMagic, Inc
It feels like it was only yesterday that we were hearing these hit records for the very first time. But guess what? They've all been around for over two full decades! Feel ancient yet? Join us on a trip down memory lane to the year 2000 with these songs that turned 22 in 2022.
---
1. "Who Let The Dogs Out"

–

Baha Men

It's been over 20 years, and we still don't know who let the dogs out! This song became the group's only big hit and was awarded the GRAMMY for Best Dance Recording in 2001. Fun fact: Every group member auditioned to say the iconic line, but it was vocalist Marvin Prosper who got to do the honors.

If you need more one-hit wonders in your life, tune into ONEderland (Ch. 702)!
2. "Come On Over (All I Want Is You)"

–

Christina Aguilera 

"Come On Over (All I Want Is You)" was the first song Christina Aguilera was given significant creative control over. It was originally written to be pitched to the Spice Girls before Aguilera was able to scoop it up. And what a catch it was, with the single going on to achieve huge international success.

Looking for more pop hits to keep you going through the day? Check out The Pulse (Ch. 5).
3. "Last Resort"

–

Papa Roach

"Last Resort" served as Papa Roach's debut single and was first featured on the soundtrack for Ready to Rumble. Vocalist Jacoby Shaddix has described the song as a "cry for help" due to the lyrics' references to suicide and has helped many listeners express their inner struggles.

Like to listen to the past, present, and future of all things rock? The Spectrum (Ch.28) might just be your new favorite channel!
4. "Country Grammar" – Nelly
"Country Grammar" was Nelly's debut single and received high praise from critics upon its release. The iconic melody is taken from a children's song, and the story goes that Nelly heard some little girls singing and it got stuck in his head. Nelly's take on it definitely isn't suitable for a younger audience, though!
For more iconic Hip-Hop hits, listen to Hip-Hop Nation (Ch.44).
5. "

Ms. Jackson

"

–

OutKast

"Ms. Jackson" was the second single from OutKast's fourth studio album, Stankonia. The song earned them a GRAMMY for Best Rap Performance by a Duo or Group at the 44th GRAMMY Awards. Interestingly, the lyrics are dedicated to the mother of singer Erykah Badu, who immediately recognized herself in the song despite the different name.

If Outkast is your jam, make sure to check out SiriusXM FLY (Ch. 47)!
6. "It's Gonna Be Me" – *NSYNC
Undoubtedly one of *NSYNC's greatest hits, "It's Gonna Be Me" reached the number one spot on the Billboard Hot 100 and was certified gold by the Record Industry Association of America. The song is about a woman who is hesitant to jump into a new relationship. The singer, being the gentleman that he is, assures her that he will wait for her until she is ready to date again.
Get your fix of pop and rock classics from the '90s and '00s with PopRocks (Ch. 12).
---
Related: Top 10 Greatest Collabs Between Women
---
7. "Doesn't Really Matter" – Janet Jackson
Janet Jackson recorded "Doesn't Really Matter" as part of the soundtrack for the Eddie Murphy comedy Nutty Professor II: The Klumps, in which she also played Eddie Murphy's love interest, Professor Denise Gaines-Klump. While the movie received less-than-favorable reviews, the song has certainly endured as a classic, with Jackson later including it in her album All For You.
Tune in to The Blend (Ch. 16) for more easy pop hits to lighten your life!
8. "Beautiful Day" – U2
One of U2's biggest hits to date, "Beautiful Day" was released as the lead single from All That You Can't Leave Behind, helping it reach multi-platinum status. According to Bono, the song is about a man who has lost everything but can still find joy in what's still left. It was also one of the first major releases available for digital download — oh, the good old days, right?
Can't get enough of U2? U2 X-Radio (Ch. 32) has got you covered.
9. "Kryptonite" – 3 Doors Down
As the debut song of 3 Doors Down, "Kryptonite" saw the band hit the ground running. It reached the top spot on the Mainstream Top 40 charts for five weeks and was the band's best-performing song on the Billboard Hot 100. Lead singer Brad Arnold came up with the idea for the song at just 15 years old during math class — an excellent use of his time if you ask us!
Tune in to SiriusXM Turbo (Ch. 41) for more of the best hard rock tracks from the '90s and the '00s.
10. "Oops!… I Did It Again" – Britney Spears
This song may date back to 2000, but its popularity endures — we still listen to it daily! Since its release, "Oops!… I Did It Again" has been covered and referenced by numerous singers and has also featured in several television series and video games. It's a tour-de-force and a testament to the enduring greatness of one of the legendary queens of pop.
Listen to Venus 303 (Ch. 303) for more pop hits that'll have you looking for the nearest dance floor.
---
Has our list left you nostalgic for more classics from 2000 and beyond? You can find more of the greatest hits from the era on Pop2K (Ch. 10), plus many more on the SiriusXM app.
---
---
---