Tom Brady is a three-time Super Bowl champion, two-time Super Bowl MVP, two-time NFL MVP, three-time First Team All-Pro quarterback and 10-time Pro Bowler.
Former Baltimore Ravens linebacker Ray Lewis threw all that out the window this week in an interview with Stephen A. Smith on Mad Dog Sports Radio.
Smith and Lewis were debating whether the Dez Bryant play in last weekend's NFL playoff games was a catch, when Lewis digressed to talk about the tuck-rule game in 2001.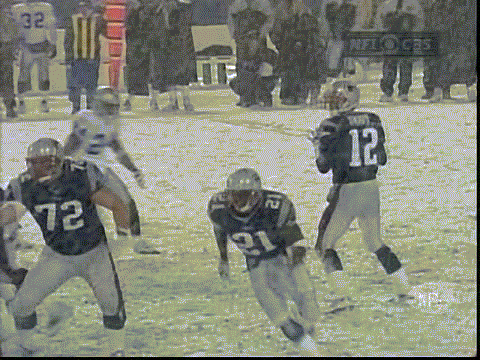 A quick history lesson: Brady's New England Patriots made the playoffs in 2001 after finishing 11-5 and winning the AFC East. In Brady's first playoff game, the Pats took on the Oakland Raiders in Foxborough. Trailing 13-10 in the fourth quarter, Brady was hit by Raiders cornerback Charles Woodson and dropped the ball. Initially, officials ruled the Raiders recovered a fumble; however, after reviewing the replay, the fumble was changed to an incomplete pass, and the Patriots maintained possession. The drive ended in an Adam Vinatieri field goal, forcing overtime. In overtime, Vinatieri hit a game-winning chip shot; the Patriots went on to win Super Bowl XXXVI against the St. Louis Rams.
Back to Lewis (emphasis mine):
Think about this, Stephen A. Smith. Honest to God. The first time we created something called a tuck rule, I'm just being honest, the only reason we know who Tom Brady is, [is] because of the tuck rule. There's no such thing as a tuck rule! If the ball is in your hand and I knock it out your hand, whether it's going backwards, forwards, lateral, sideways, however it's coming out, that's a freakin' fumble! But guess what we created? We created a freakin' tuck rule.
Smith offered Lewis a chance to back track:
"The way you sounded, Tom Brady wouldn't be Tom Brady if it wasn't for the tuck rule."
Lewis didn't relent.
They don't go to that championship game if that ball is called a tuck. That's a fumble. Charles Woodson made that man clearly fumble the ball, and they named it a tuck rule. Something we've never heard in today's game. So now, you gotta ask yourself: When did the legacy really start?
Listen to the full clip below:
For a free 30-day trial, check out siriusxm.com/fbtrial.